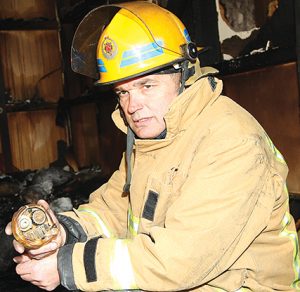 Kevin Donaldson. Photo supplied.Two Mid Canterbury firefighters have returned safely to their families after helping to tackle blazes in Canada that "made the Port Hills fire look like a little barbecue".
Alford Forest deputy fire force controller Nathan Currie and Timaru senior station officer Kevin Donaldson were among a contingent of 80 Kiwi firefighters deployed to help tackle severe wildfires in British Columbia, which scorched more than 200,000 hectares of forest.
The gruelling trip involved 12 to 15-hour working days and temperatures of up to 41°C.
Firefighters worked 14 days, had a two-day break, and then worked another 14 days, and were accommodated in tents at a site near Kamloops.
Currie said he lost around six kilograms during his time working in Canada, but had gained a lot in the way of knowledge and newfound respect for the power of nature. "I've never seen anything of that size and I probably never will again."
Alongside the flames and heat, the firefighters had to negotiate unfamiliar and often tricky terrain, keep an eye out for black bears and snakes, and familiarise themselves with escape routes from the flames.
"You've really got to have your wits about you. You can't be in the wrong place at the wrong time," Currie said.
Donaldson said the arduous work, early starts and constant hazards made for immense fatigue. "By the last three or four days, if you even stood still you might just fall asleep," he said.
Both firefighters said they had brushed up their rural firefighting skills significantly and described the trip as a "great experience" overall.
"It was absolutely amazing, and there was really good camaraderie between all the firefighters," Currie said.
"It was a real privilege to be selected. A lot of firefighters would have loved to have gone," Donaldson said.
He was also hugely grateful for the sacrifices and efforts put in by the families of those who went, including his wife Glenda who had been tackling lambing season on their Ashburton lifestyle block.
Firefighters were only given about three days' notice before departing to Canada at the start of August.
"I would do it again though," Donaldson said.
By Katie Todd © The Ashburton Guardian - 21 September 2017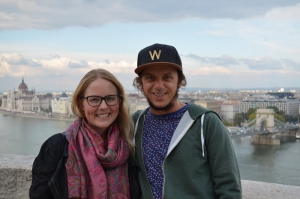 Kate and husband Matt. Photo supplied.It's been 12 years since she left Ashburton College and trained as a doctor but the old inter-house rivalry still surfaces when she gets together with her friends James Cochrane (Green house leader), Rebecca Polson (Blue), Leigh Burgess (Orange) and Kirsty Naish (Red).
Kate, at college from 2001-2005, said she was a proud Green House member and loved getting involved in any activity going.
"Lipsync was one of my favourite events and my friends and I took our acts very seriously. I was heavily involved in highland dancing so would always perform this at the Music Evenings. I had lots of fun competing in house sports and played tennis and touch on school exchanges as well as playing netball for Ashburton College in my junior years."
One of her most vivid memories is of the annual chess match (aka water fight) with the teachers in her final year. "I am pretty sure the teachers were cheating with their water tactics but we won in the end!"
In the classroom, Kate was working to a plan to study medicine and after her final year ventured to chilly Dunedin to study first year health science at the University of Otago.
She earned a place in Medical School and finished her degree with clinical years based at Christchurch. Kate also spent time in Tanzania and Rarotonga working as part of an elective in her final year.
"I graduated in 2011 and my first job as a doctor was in Gisborne Hospital where I stayed for two years. While I have always been a South Island advocate, I did fall in love with the rich culture and untouched beauty of the East Cape. It was very stressful at times with the weight of responsibility to make decisions that had significant impacts on people and their whanau and many tears were shed in the staff toilets. But it was also a time significant personal growth and lifelong friendships were made."
After a brief stint back south working in a GP practice in Waimate, she moved to Palmerston North to start her paediatric specialty training. "I love working with children, they are incredibly brave and resilient. I am now more than halfway through this training programme as a Paediatric Registrar."
Kate has just finished a six-month job at the Neonatal Intensive Care Unit in Wellington Hospital to gain neonatal experience as part of the paediatric training.
"A typical day in the neonatal unit starts at 7am, (or finishes at 7am if I've been on night shift). We will round on all of the patients starting with the most unwell. We look after newborns with a range of medical and surgical problems. A large part of this job is looking after premature infants.
"Neonatal care has advanced significantly, particularly in this field, and means that we are able to look after infants who are born considerably early and small. Our day is interjected with rushing to deliveries where there are concerns about the baby, consulting on babies with their mothers on the post-natal ward and performing necessary procedures on our babies in the unit. Before you know it, it is 7pm and time to hand over again. We run a shift based roster and night shifts are my least favourite days of the week."
Kate can also find herself aboard a helicopter. "We also run a regional transport service to pick up unwell infants from around our region (the top of the South Island to central North Island) and bring them to our unit for specialist treatment. We use Life Flight for this, either a fixed wing plane or helicopter. We often don't get much warning for these transfers and they can happen at any time of the day or night. It can be really stressful as these are often unwell and unstable babies and there are challenges working in such a confined space up in the air. You are also crossing your fingers that the Wellington weather will be kind. Thankfully, a very experienced neonatal nurse is with us and I am always so grateful for their expertise."
Working with such tiny patients is hard, but there are rewards.
"Having a baby in the neonatal unit is incredibly stressful for families and it is always hard to see the struggles and challenges they face. It is hard to see such small and vulnerable babies go through so much as their life is only just beginning. The most rewarding part though, is developing relationships with those families, some who are with us in the neonatal unit for months, and then to see them finally be able to take their baby home."
If she could wish for one thing in her line of work?
"Children are the innocent victims of the significant disparities that exist in our society. It breaks my heart to look after children whose health has been affected by their living conditions, poor nutrition and material hardship they live in, and to know that the impacts of this poverty will extend far beyond their current hospital stay. If we can focus on providing an equitable start to life for these children by addressing these issues then we will not only improve health, but we will make New Zealand's future brighter too."
Kate counters her busy life at the hospital with husband Matt, an anaesthetic registrar. The pair have plenty of fun taking their energetic puppy Frida to the beach or enjoying Wellington's cafes and restaurants.
"I am still incredibly close with my Ashburton College friends and enjoy regular catch ups with weddings and, a new one this year, 30th birthday celebrations! I try to get back to Ashburton every couple of months to see family and friends. I can't believe how much it has grown and developed since I was there. Wherever I end up long-term, Ashburton will always be home."
By Linda Clarke © - 19 September 2017
Lauren Ellis won't be seen on the cycling track this year. Photo Tetsuro MitomoMid Canterbury's Olympic cyclist Lauren Ellis has put her sport on hold to have a baby.
Ellis and her partner Tim Burtenshaw are expecting the arrival of a baby boy at the end of November.
She will miss the Commonwealth Games in April next year but has plans to be back on the bike for the Olympics in Tokyo in 2020.
Ellis, 28, said she was in full training for the elite track world championships in Hong Kong in April when she found out she was pregnant.
"I had to pull out just before worlds after speaking to the doctor.
"It was the right decision as morning sickness really hit me the week that I was supposed to fly out.
"It was really hard the first four months.
"My morning sickness was quite bad and lasted all day and night."
She has since put her bike aside and is concentrating on study before the baby's due date on November 22.
Ellis was in Ashburton for a baby shower recently to share the news.
"It was my first time down in a while so it was great to see everyone again.
"I got some really cute clothes and toys.
"It made it start to feel like it was really real as I could share it all with my friends and family."
Excitement levels in their household are rising as well as in Hinds, where Ellis' parents Megan and Brian live.
"Tim is really excited. It's practically all we talk about now.
"That used to be cycling."
The couple have been going to baby expos and events and will take life, plus one, step-by-step.
They are currently living in Tamahere, between Hamilton and Cambridge.
"My original aim was to get back to fitness in time for the Commonwealth Games, but since they are in April it's not realistic to get to top form by then. I wouldn't want to just make up the numbers."
Ellis said her plan was to steadily build up fitness and get used to life with a baby before Tokyo.
It will be her third Olympics.
She competed in London in 2012 and at Rio last year, as a member of the women's pursuit team and as an individual in the omnium – posting fourth placings in both.
She represented New Zealand at the Commonwealth Games in Glasgow in 2014 and in Delhi in 2010, where she won a silver medal in the points race.
She says Tokyo is her only aim at the moment.
"I knew after Rio that I had unfinished business.
"Being so close to a medal was hard. I learnt a lot over the past four years of what works and more importantly what doesn't.
"I'm certain I can do better next time as I will be more concentrated on what I need.
"I just need to work on getting back in the team in time.
"I'm looking forward to having a little cheer squad in Tokyo."
By Linda Clarke © The Ashburton Guardian - 12 September 2017