Liam Kennedy-Clark. Photo suppliedLiam Kennedy-Clark will take a massive leap forward in his career this weekend when he joins the band of country music icon, Lee Kernaghan.
The opportunity is a game-changer for the Ashburton-raised artist, meaning he will be performing to packed crowds every weekend as part of the singer-songwriter's 25th Anniversary Tour.
Now based in Queensland, Liam will be playing guitar and piano as part of the headlining band, but learning the songs won't be a problem as he's been a long-time fan.
"I was absolutely stoked," he said.
"I found out the other day, I was down teaching and got a message from Tom Wolfe (of The Wolfe Brothers) who is currently on tour with Lee.
"As well as being lucky enough to tour with such a big name, I know quite a few of the songs."
Liam estimates he could be performing to about 1500 fans for each show and has already been in contact with the Australian star.
"He's been supportive and said he's had a look at some of my stuff," he said.
"Lee's really iconic; he's a household name and everybody knows most of his songs (in Australia)."
Liam first saw Lee Kernaghan play at the Tamworth Country Music Festival five years ago, saying the whole experience opened his eyes to country as a genre.
As well as gearing up to the series of shows, Liam is also about to launch his EP, Travelling Lines on June 23.
He has funded the project himself and brought in a talented bunch of musicians who support him on the release.
While the multi-instrumentalist has been influenced by the likes of, Vince Gill, Albert Lee, Joe Walsh, Brad Paisley and Keith Urban, his own style has morphed into a unique sound all of his own.
"I grew up on classic country like Merle Haggard, The Highwaymen … so there'll be a little bit of that and I've also found my own style," he said.
"I've listened to a lot of Pink Floyd to REM, with country being my main love, so it's a new style of country that caters to a wider audience."
Liam is now looking forward to a trip home next month where he will hold the Hometown Show at The Ashburton Trust Event Centre on June 24.
The show will feature some of New Zealand's best young artists, including Kayla Marshall, and Campbell & Alyssa Landrebe, along with a house band made up of musicians from Christchurch and Timaru.
"We have made it a whole lot bigger," he said.
"We'll have a lot of original music in the show, a lot of music I grew up on, and a few curveballs."
By Megan Knad © The Ashburton Guardian - 25 May 2017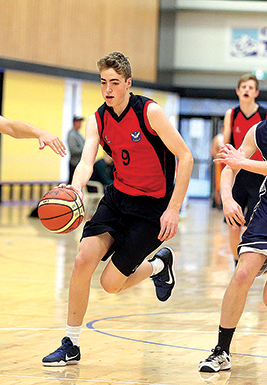 Ashburton College's Fletcher Arnold top-scored with 22 points in the clash with Rangiora. Photo Ashburton GuardianBasketball fans at the Oxford Street Stadium on Tuesday left smiling, despite Ashburton College losing one of the two games played there.
The senior girls lost a close encounter to competition favourites Rangi Ruru 67-59, while the senior boys were on fire from the three-point line in a good battle to beat Rangiora High School 95-63.
The boys had faced the top seeds in their two Thompson Trophy games, losing both narrowly, and headed to Oxford Street determined to win. They were ahead 38-33 at halftime, but then let loose a superb shooting display that Rangiora couldn't match.
Coach Pip Johnston said the boys started slowly and took a bit of time to get into the game.
"When they started to pick up the defensive effort, we got turnovers and turned them into points – a great team effort with everybody looking for the open player.
"It was a way better shooting night for us as well. Quinn (Ritchie) and Nick (Fechney) lit it up from the outside knocking down some nice three-pointers.
"I knew it was only a matter of time for us to get a win in this competition and we'll look to keep building on it."
Leading points scorers were Fletcher Arnold (22), Ritchie (16) and Fechney (13).
Arnold heads to Auckland for the national under-19 tournament over Queen's Birthday weekend, as a member of one of the two Canterbury Combined teams. Johnston is also going, as associate coach.
Round three of the Whelan Trophy competition saw the Ashburton College senior girls host unbeaten number one seed Rangi Ruru. Having not been challenged in their first two games so far this season the college girls knew a tough encounter was on the cards.
College started strongly on defence, intent on making Rangi's Year 13 Junior Tall Fern, Esra McGoldrick, earn her points. This, along with some solid work in the offensive paint from forwards Sophie Adams and Ashlee Strawbridge gave the college girls a 17-10 lead at the quarter.
College continued to put the pressure on early in the second quarter, at one point holding a 12-point buffer. With some of its key players in foul trouble, Rangi Ruru was forced to switch its defensive tack. The result paid dividends, with college only ahead by three at the half, 29-26.
With some adjustments at the half, college came out strongly in the third quarter scoring regularly through Strawbridge and guard, Liberty Ross. On the wings Grace Adams and Dani McArthur pressured the ball well, forcing Rangi into some tough shots, allowing college to hold a 49-42 lead into the final quarter.
Rangi Ruru upped the defensive pressure in the fourth, using its size up front to trap the college guards. Some early turnovers and rushed offence saw the scoreline narrow as the quarter progressed. College was unable to adapt to the full court pressure and with four minutes remaining Rangi Ruru took the lead.
McGoldrick's 36-point haul, with 13 in the final quarter, took Rangi Ruru through to the final whistle with the 67-59 margin in their favour.
Strawbridge knocked in 20 points to top score for college, while Sophie Adams' strong showing in the paint saw her grab 16 points.
College Coach Andrew Shepherd was extremely proud of his girls' effort, but disappointed they couldn't keep up the intensity in the final stanza.
"Last season Rangi beat us twice by 20-plus points, we've made some huge improvements in the off-season and are right there with these top teams."
© The Ashburton Guardian - 25 May 2017
After months of hard work, Ashburton College's Stage Challenge team has been rewarded with a haul of awards and titles.
The school was the Christchurch Stage Challenge winners of the open division for 2017.
Along with the main prize, the school collected 10 awards of excellence and the "spirit of stage challenge award".
The school's narrative was titled One Small Boy, and explored the idea of the power of social media to transform worldwide thinking.
Centered around the Syrian refugee crisis, Ashburton College teacher Claire Bubb said the narrative explored how the one image of a young Syrian refugee who had drowned, and washed up on a beach in Turkey, had been a catalyst for worldwide attention on the issue.
Given eight minutes to perform the narrative, and not able to make any sound from on the stage, the students delivered the piece in three major scenes.
"In the first scene it was the little boy on the beach, then it went in to full on war with soldiers and explosions before a scene in the lifeboat on a sea of students representing the ocean, before the boy goes overboard and is dragged down and drowned by the ocean," said Bubb.
"The students then came and took photos which were sent all over the world, and the final scene was of a refugee camp, showing refugees with hope and building a future.
"As they weren't allowed to make noise on the stage, we used voiceovers and news reports about the little boy which was very powerful."
The judges' comments of the performance described it as "confronting, visually stunning and powerful", and left one judge crying throughout.
A 90-student strong team made the trip to the Horncastle Arena at 7am on Friday, with the group not returning until 1am on Saturday morning.
"The performance was purely student directed, choreographed and produced," said Bubb.
"It was amazing and had a huge effect on the audience.
"I am really proud of the students for having the bravery to delve into something so hard-hitting."
Bubb said many students described it as the best day ever.
The students had 30 minutes on stage to prepare, before spending the rest of the day in "production meetings", socialising with 1500 other students.
"It was a fantastic experience, the whole thing, creating it and then seeing it come to life," she said.
By Jaime Pitt-MacKay © The Ashburton Guardian - 22 May 2017