Lachie Davidson in Brazil looking over towards Rio. Photo suppliedA year ago, Lachie Davidson was playing paintball at the abandoned lake house of Colombian drug lord Pablo Escobar.
Go back a year before that and the head boy at Ashburton College in 2015 was wondering what he would do with his life. While university study was somewhere on the horizon, he opted for a gap year working in South America with the international volunteer organisation Lattitude.
Davidson, who turns 20 in November, managed to learn some basic Spanish in what was a busy Year 13 as a school leader and enthusiastic member of Green house.
He played at lock for the First XV, played basketball and volleyball, he was a rower in his earlier years. His favourite sporting memory is when the Ashcoll under 15 rugby team beat St Andrew's in the final of their South Island tournament – teachers and coaches Mike O'Callaghan and Pete Fougere had booked the team into a Christian camp near Pleasant Point for the duration of the tournament, and there was no cellphone coverage.
Davidson remembers the haka that preceded the final against the private school and the jubilation that followed the win. Rugby was at its peak at the school about then, with the First XV making it to Rotorua for a top-four playoff with New Zealand's best co-ed school teams.
It was rugby that helped him make friends in Ecuador last year and at Massey University this year, where he played for the university's colts team until being sidelined with injury.
He says his volunteer stint in Ecuador and Argentina was life-changing and has ignited a passion to travel again. As a volunteer he worked in a special needs school, and in primary and high schools in the continent, helping students improve their English skills. Along the way he has picked up a love of South American languages, culture and food … and a moustache that he stubbornly refuses to shave off.
The trip also exposed him to the extremes of poverty and generosity, both to the fore in the aftermath of the 7.8 earthquake that struck Ecuador while he was there. Davidson and a group of Lattitude students made their way to an aid station where they helped co-ordinate and sort quake donations.
Davidson said he was also lucky to visit the Galapagos Islands and be a proud Kiwi supporter at a rugby test between the All Blacks and Argentina.
He said the gap year had given him a mental break and he was enjoying this year studying towards a Bachelor of AgriCommerce, majoring in international agribusiness.
He has fond memories of his years at Ashcoll, especially his final year.
He says he was lucky to have Jason Vannini as his form teacher from Year 9 to Year 13 and counts him as a friend. Ag teacher Steven Millichamp also fostered the seed for a career in agriculture (and was rewarded by finding a goat in his classroom on the final day of that school year), while he also credits teachers Claire Tappin, Michael Clark and Denise O'Halloran for other good memories.
The college afforded plenty of opportunities, he said, and helped him prepare him for the wide world beyond.
By Linda Clarke © AshColl Alumni - 17 July 2017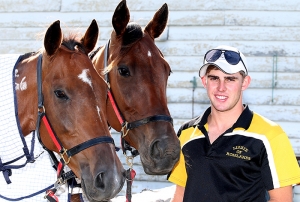 Ashburton driver Johnny Morrison will be up against some tough opposition in the New Zealand Junior Drivers' Championship. Photo Tetsuro MitomoHe's one of the new kids on the block still, but Ashburton junior driver Johnny Morrison is chasing a national title this weekend.
The talented young horseman will line up against 11 of his peers over the course of tonight and then tomorrow in the New Zealand Junior Drivers' Championships for the best rising talents in harness racing driving from around New Zealand.
With 17 wins next to his name for his career in what is just his second season in the sulky on race day, Morrison is making a pretty good fist of the driving caper – but will head into the series as one of the least experienced and is going up against people who have driven five times as many winners as he has.
But he's not letting that daunt him.
"You can't let things like that worry you too much," he said.
"I'm just really honoured to have been able to qualify to compete in a national championship, it's going to be an incredible experience to compete against some of the best juniors from around the country in the series."
The son of well-known Mid Canterbury trainer and saddler Chris Morrison, Johnny is now based in Christchurch and working part-time for strike-rate trainer, Steven McRae of the famous Spreydon Lodge.
He's mixing his time working for McRae with doing some farrier work around the region for a number of trainers as well as training the odd horse of his own in his spare time.
"It keeps me out of trouble, there's always something to do."
Morrison has enjoyed a good season with his 11 wins coming with a couple of weeks remaining before the seasons turn over.
Good mate, and supporter, Warren Stapleton has provided him with four winners this term, while he's also been able to salute in the colours of two of his other biggest supporters in Michael Heenan and Rex Bennett.
"I've been given some great opportunities and wouldn't be competing in this series without their help."
The series was due to kick off last night at Forbury Park in Dunedin, but the inclement weather that has caused havoc up the South Island this week saw the meeting postponed and shifted to tomorrow afternoon – so what was to be the start of the competition, is now the finish.
Things will kick off tonight at harness racing HQ at Addington instead.
Morrison has the drive on the Ashburton-trained Bishop Brian in the opening heat of the championship for Dallas Patterson but considered Gunpowder, his second drive tonight, to be his best chance of all.
Tomorrow at Forbury he will drive Caitlin Franco who looks a good each way chance and also Ella Abbe for renowned trotting trainer, Phil Williamson – giving him a good shot at some success.
By Matt Markham © The Ashburton Guardian - 14 July 2017
Josh Lowe. Photo Ashburton GuardianThere's no rest from basketball for Ashburton College senior player Josh Lowe these holidays.
The 2.03 metre (6 foot 8 inch) student has a two-day training camp in Auckland next week then he's off to Las Vegas with an Impact Basketball Academy team to play against some of the best high school ballers in the United States.
Lowe, 17, caught the eye of the academy's top coach in April when he was part of a development team that played in a Florida tournament.
He's been working on every aspect of his game since and is hoping to ultimately earn a basketball scholarship to an American university. Lowe is a member of the senior boys' side that plays in the Canterbury Basketball Association's Thompson Trophy secondary schools' competition.
He has regularly faced off against New Zealand age-group reps but knows he will need to take his game to another level when he steps off the plane on July 25.
Florida was a learning experience – the Americans played a faster and more physical version of the popular sport and he had to adapt quickly.
He also found himself playing in the unfamiliar position of point guard.
"In the US they double-team you when you bring the ball up, they are a lot more aggressive."
In Mid Canterbury Lowe has always been the tallest player in the team as he has progressed through school and representative teams over the years and always played at centre or small forward.
So for the past 12 months he has also been working on his ball skills and strength. He puts up at least 100 shots most days and practises on the purpose-built concrete slab outside his home.
The left-hander dribbles the ball, or balls, with both hands, behind him, in front of him, through his legs.
He is also following a special strength and weight-gain programme designed by physical trainer Frank Connelly; since the start of the year he has put on 10kg. Lowe says the Florida trip helped him decide to give basketball a shot and he had no hesitation in saying yes when invited back for the Las Vegas tournament and then to join the academy in Florida in January.
He plans to train there for part of the year, aiming for a scholarship that would kick in when the American school year does in August.
He says good grades at school are also an important consideration for universities so the Year 13 student is also spending part of the holidays immersed in his text books.
Playing basketball while he studies next year would be a dream come true.
By Linda Clarke © The Ashburton Guardian - 12 July 2017