Alyce Lysaght - Photo Linda ClarkeAlyce Lysaght is interested in both politics and climate change. Combined, they could take her places.
Alyce, 18, leaves Ashburton College this year with the NBS Ashburton College Alumni scholarship and a host of other awards that reflect her hard work, great attitude and natural leadership.
She is concentrating on exams right now and heads to the University of Canterbury next year to study towards a degree in engineering. She is focussed on climate change and environmental engineering.
In her final year at college she has studied calculus, physics, chemistry, accounting and English, while being a co-leader of Green House and outside school heading the Ashburton Youth Council, which is an arm of the Ashburton District Council. She's also held down part-time jobs at Kelly's and the Regent Theatre.
As well as leaving the Year 13 awards ceremony with the alumni scholarship, she was also awarded the Zonta Club's community services award, the Masonic Lodge scholarship and the EA Networks scholarship for a student entering the electrical industry.
The school says she is a natural leader whose behaviour is always mature and exemplary.
Alumni board chairman Alister Argyle agreed, saying Alyce had made a positive impression on all those she had met, balancing her studies and leadership roles.
The scholarship will help pay for the many textbooks she would need in her engineering studies.
"I really love calculus and physics. I have a methodical brain and I love processes and formulas and knowing how things work. Maybe I'll do something to do with renewable energy, that goes hand in hand with climate change."
Alyce said her busy life had been helped by supportive family, friends and teachers, in particular Claire Bedward and Stacey Monk who had helped her during the five years at college.
"I feel I have grown as a person with a lot more confidence, building friendships and connections."
She and mum Kerri were quickly on Facebook after the prizegiving to share the good news with dad Jim, who is in Vietnam. Alyce will be joining him in December for a couple of weeks before returning for university.
She said her youth council role had sparked an interest in local body politics and the experience had been valuable.
The $1000 Ashburton College Alumni scholarship was made possible with the support of NBS Ashburton and its branch manager Rod Fox.
By Linda Clarke © AshColl Alumni - 10 November 2017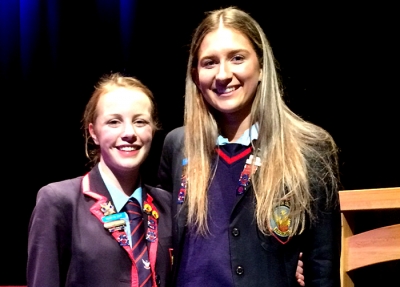 Ashburton College's Samantha McArthur (left) has juggled head girl responsibilities and academic success to be named Dux on Monday night. Also pictured is Kirsten Clarke, who took home the Proxime Accessit award.Maintaining her willpower, spending "a lot" of time at her desk, and keeping track of everything in a notebook – that's the recipe for success for Ashburton College's Samantha McArthur.
The Year 13 student managed to both excel in her head girl duties throughout the year, and scoop up an impressive array of silverware at the college prizegiving on Monday – including the coveted Dux award.
McArthur's haul included awards for music, German, chemistry, history and general excellence, along with a leadership award, Dux and two scholarships.
Despite also taking out Top Scholar awards in Year 11 and 12, McArthur said this year's success came as somewhat of a surprise.
"I wasn't really expecting it because it's been a very busy year," she said.
"I think the hardest part of this year has been taking the time out for study."
Her secret for keeping on top of things?
McArthur said she is a big believer in carrying a notebook everywhere to keep track of assignments, due dates, anything else worth following up.
"You could probably describe me as hyper-organised."
McArthur's scholarships will set her up for studies at Otago University next year.
She will be pursuing a conjoint Bachelor of Law and Bachelor of Arts, majoring in German, and has secured a place in her first choice hall – Carrington College.
"Law's definitely the direction I want to go in, and probably from a more international angle," she said.
"I think the main reason I chose law is because I like working with people a lot."
As she heads towards her final NCEA exams, McArthur is confident that she has put in enough work and everything should go well.
"I guess I've just got to keep focused now," she said.
Runner-up to Dux and winner of the Proxime Accessit was Kirsten Clarke, who also took home an impressive total of 10 awards.
By Katie Todd © The Ashburton Guardian - 8 November 2017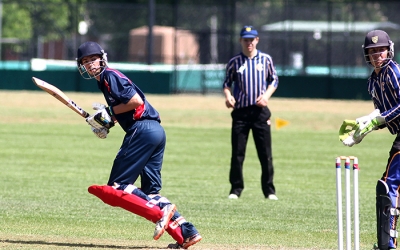 Ashburton College's Ben Niles checks the progress of his shot before running between the wickets. Photo Jaime Pitt-MacKayAshburton College's First XI found something to celebrate this week, despite finding the going tough in the top grade of the Canterbury secondary schools' cricket competition.
The side was convincingly beaten by Christchurch Boys' High School at the weekend, amassing 112/9 – a total quickly and aggressively chased down by the national schoolboy champions with the loss of just one wicket.
However the game did yield some positives for the team.
Captain Will Graham started the match needing 14 runs to reach a 1000-run milestone for the college – he passed the mark easily with a tally of 25, beaten on the day only by Ben Niles, who top-scored with 28.
Graham becomes the eighth player in the college club's history to reach 1000 runs, joining Jack Meyrick (1243), Matt Tait (1219), Kieran Hunt (1124), current team-mate Tom Ravenscroft (1103), Ben Mably (1083), Kurt Polson (1073) and Michael Burton (1054).
Graham's tally is at 1011 with three games remaining in the season.
The seam bowler is also in the club's top all-time 10 wicket-takers, currently sharing a career tally of 82 wickets with team-mate Gareth Hunt, who claimed the sole wicket on Saturday.
Graham's star continued to rise this week when he was presented with the Noel Hoskin Cup for cricket at the Year 13 prizegiving on Monday, along with a cricketing scholarship to Lincoln University.
He was also selected in the Canterbury Under 19 team to play at the national age-group tournament at Lincoln on December 4-12.
Former Methven player Richard Turpie, who now attends Christ's College, was also named in the side.
AshColl is back at the Ashburton Domain this Saturday for what is likely to be their last home game of the season, against North West.
On Sunday they travel to the Willows club at Loburn for their annual match against the cricket institution.
By Linda Clarke © The Ashburton Guardian - 7 November 2017